Tips from Federer, skydiving — top golfers ready for Royal Birkdale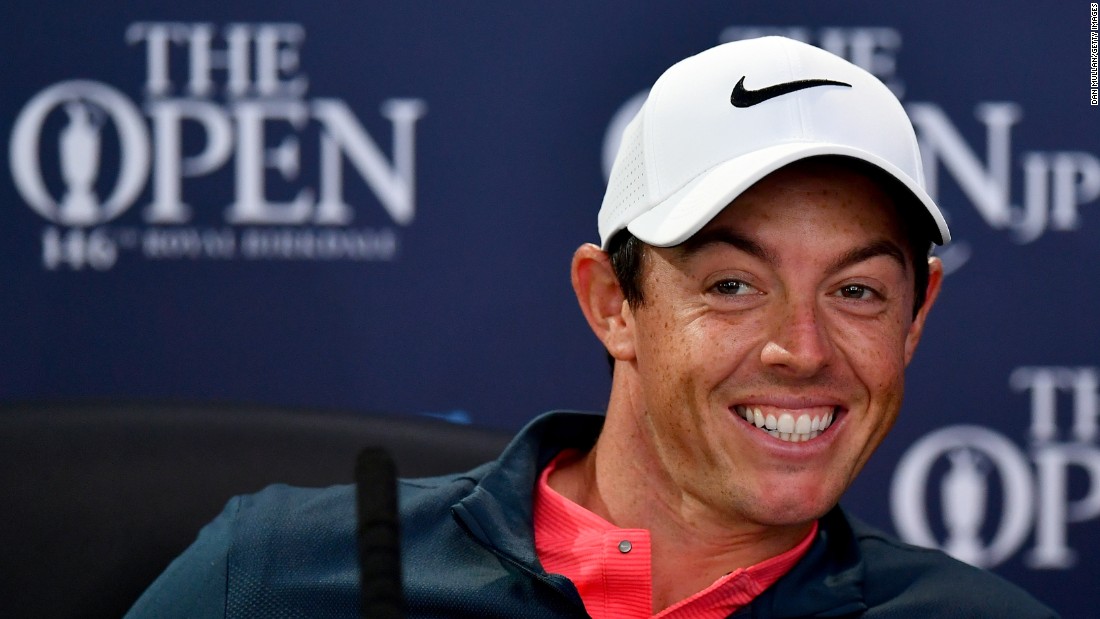 Royal Birkdale (CNN)Jordan Spieth is preparing for mind games, Justin Rose will lean on tips gleaned from Roger Federer, Rory McIlroy says he's a good bet and Henrik Stenson is worried about skydiving with the Claret Jug.
The 146th British Open at Royal Birkdale, which starts Thursday on England's northwest coast, promises to be one of the most open Opens in years.
The past seven majors have been won by first-time winners, although Royal Birkdale has a quirky habit of rewarding former champions and consecutive winners.
World No. 3 Spieth, though, thinks the traditional Open weather lottery could discount half the field straight away.
Open history is littered with infamous spells of weather, given the seaside locations of links courses and the changeable British summer climate.
Often one half of the draw — early or late starters on the first two days — suffers more than the other. When the tournament was last at Royal Birkdale in 2008 gales and driving rain marked the opening morning, while play was suspended for a spell because of high winds on the Saturday.
'Mind games'
"Most of the time there's at least a group that gets the worst weather," said Spieth, who fell foul of difficult conditions on the Friday at Royal Troon last year.
"And it's almost impossible to win in that circumstance.
"If it's an afternoon round and the other side has already played the morning, that's when it's tough.
"Because you're like, 'I can't shoot those scores. It's not possible.' And that's frustrating when you think you can play your best and it doesn't happen."
On the other hand, a favorable draw can add pressure to perform, he says.
"It's a mind game that you play with yourself there," said Spieth, who is looking to add to his two breakthrough majors from 2015.
The forecast for Thursday is mostly fine with winds gusting to 20-25 mph in the afternoon, while Friday will be breezy in the morning with outbreaks of rain in the afternoon.
"Everything he does is pretty much spot on, the way he handles himself, the grace in which he plays the sport I think is incredible. Mentally how he doesn't give much away I think is a style that's well suited to golf, too.
"Yes, I'm watching the tennis, but I'm watching him more than anything, and seeing what I can pick up. There are a few tricks here and there that you can apply to golf. I've always found it a bit easier to learn from other sportsmen than I have from golfers."
World No. 4 McIlroy won the Open at Hoylake in 2014 for his third major title, followed a few weeks later by his fourth at the US PGA, but has not won a major since and has struggled for form recently.
He has missed three of his last four cuts, stretching back to the US Open, and is consequently rated a general 20-1 shot with oddsmakers.
"Good time to back me, I think," laughed the Northern Irishman, who didn't cope well with strong winds at the 2011 Open and said at the time, "These conditions, I don't enjoy playing in really."
He laughed at the memory at Royal Birkdale Wednesday, another who has realized the danger of bemoaning your lot and talking your way out of it.
'Sky's the limit
Defending champion Stenson, who beat Phil Mickelson in an epic final-day duel at Royal Troon last year, has vowed to add skydiving to his Claret Jug escapades, which include taking the trophy jet-skiing, should he win again.
"I don't know which is going to be harder, winning the Claret Jug again or going skydiving afterward because that thought scares me a little bit," the deadpan Swede said Tuesday.
"It won't stop me from trying to win it, though."
Of all the majors, the Open tends to be won by slightly older players, which could further narrow the list of contenders and doesn't work favorably for the 23-year-old Spieth.
"A lot of the younger guys are physically gifted, but they don't have the experience with links golf," said Padraig Harrington, who won his second consecutive Open — and from the "bad side of the draw" — at Royal Birkdale in 2008.
"Assuming decent, tough enough conditions, it's a tournament for experience. Everybody can compete short and long hitters. It's not one dimensional."
'Imagination'
The Open is the only one of golf's four majors to be played both outside the United States and on true links golf courses, but Americans have always fared well in it, winning just under 40% of tournaments in the Masters era since 1934.
Of the nine Opens played at Royal Birkdale, Americans have won five.
But US Open champion Brooks Koepka is adamant it's not where you're from but how you think.
"I love links golf. I think it's the best kind of golf you can play," said the American, who cut his pro teeth on the European circuit.
"So much imagination that goes into it. You can play 10 different shots from the middle of the fairway and I think that's so cool. You've really got to be creative. It's not just a stock shot like it is in America. You just fly it pin-high and hope it stops. Over here you can run it up, you can fly it there, too, if you want."
A scroll through Royal Birkdale's Open roll of honor throws up some interesting narratives.
There have been back-to-back major winners — Mark O'Meara won the Masters and Open in 1998; and consecutive Open champions — Harrington won in 2007 and 2008, Tom Watson won his second straight Open at Birkdale in 1983, Lee Trevino won the first of two successive Opens at the course in 1971, as did Arnold Palmer in 1961.
Australian Peter Thomson won his first Open title at Birkdale in 1954 and his fifth and final back here in 1965.
Royal Birkdale, which borders the Irish Sea north of Liverpool, is known as one of the world's great links courses, possibly the "best" course on the Open rotation, according to McIlroy.
"It tests all aspects of your game. You have to drive it well. You have to be smart," he said.
The Claret Jug is there for the taking. The beast of Birkdale stands in the way.
Read more: http://www.cnn.com/2017/07/20/golf/british-open-2017-royal-birkdale-rory-mcilroy-jordan-spieth-henrick-stenson-preview/index.html