Tiger Woods has no timetable for return but set for Presidents Cup role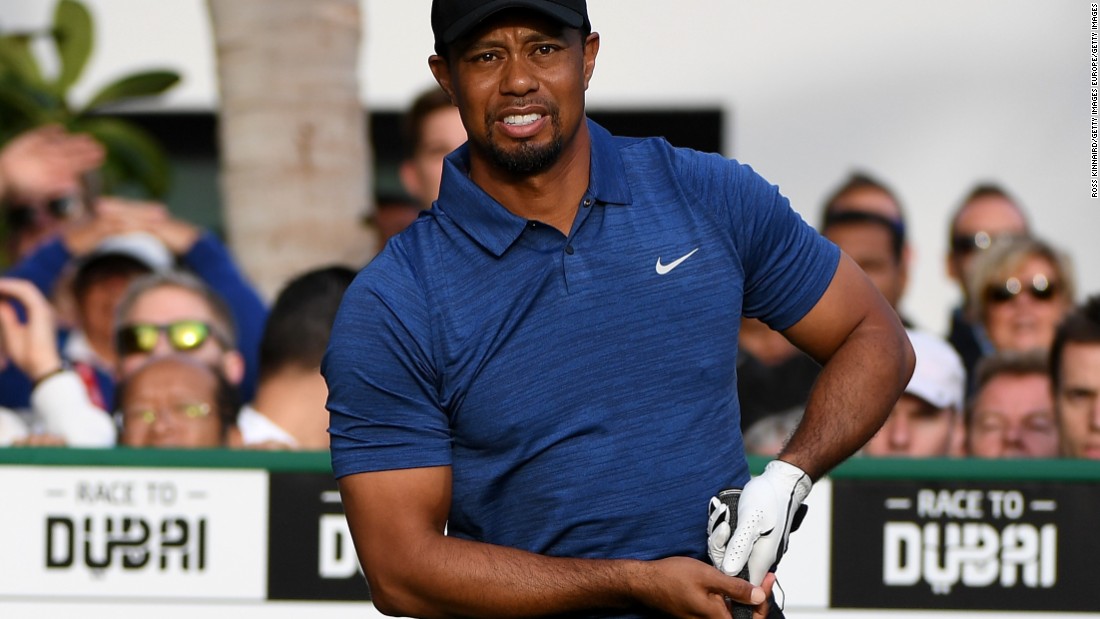 (CNN)He can only hit 60-yard shots as he recovers from his latest back surgery but Tiger Woods will return to a golf course this week as an assistant captain at the Presidents Cup.
The 14-time major champion has not played since February and underwent a fourth back operation in April as he tries to get his competitive career back on track.
The 41-year-old, who was arrested on suspicion of driving under the influence in May, says he is working out six days a week but has no time frame for a return to the sport.
"I'm feeling good, strong and doing really well," Woods wrote in a
lengthy blog
on his official website.
"About my most recent surgery, it's nice not to live in pain anymore. I'm sleeping better because I don't have any nerve pain going down my leg. It makes a world of difference.
"I'm starting to hit the ball a little further — 60-yard shots. I have not taken a full swing since my back fusion surgery last April, but continue to chip and putt every day."
Woods, who was out of the game for 15 months following multiple back surgeries in 2015 and 2016, says he is taking his rehabilitation slowly.
"I have my six-month back X-rays coming up. Once my surgeon takes a look, he'll give me the parameters of what I can do moving forward," wrote Woods, who pulled out of his last tournament, the Dubai Desert Classic in February, with a recurrence of back spasms.
"I'm working out six days a week, alternating between the treadmill, bike riding, swimming and lifting twice a day. My muscle tone is coming back, but I'm not in golf shape yet. That's going to take time.
"Playing wise, I'm not looking ahead yet because I don't know what kind of swing I'm going to use. I just don't know what my body is going to allow me to do. Until I do, I'm going to listen to my doctors and continue to take it slowly."
Woods received
"professional help"
to manage medication for back pain and a sleep disorder after his Memorial Day arrest in Palm Beach County, Florida.
In August he pleaded not guilty to a charge of driving under the influence. Later this month he is expected to admit to a lesser charge of reckless driving and is likely to enter a 12-month probation program.
Ryder Cup takeaway
Woods will reprise the role as assistant captain he performed at last year's
Ryder Cup
for the biennial match between the United States and an International team, which takes place at Liberty National in New Jersey between September 28 and October 1.
As president, Donald Trump is the event's honorary chairman but has yet to confirm whether he will attend.
On Saturday, he called for NFL owners to fire any "son of a bitch" who "disrespects our flag," but his comments were met with protests from a host of NFL teams and individual athletes on social media.
The star-studded US line-up at the Presidents Cup includes Justin Thomas, who Sunday won the season-long FedEx Cup crown and with it a $10 million bonus, for which Woods can claim some small degree of credit.
Thomas has been practicing his chipping and putting at Woods's home in Florida, alongside Rickie Fowler.
Woods will act as an assistant to US captain Steve Stricker, alongside 2016 Ryder Cup skipper Davis Love III, 2018 Ryder Cup captain Jim Furyk and former Presidents Cup captain Fred Couples.
"My biggest takeaway from the Ryder Cup last year was that as a player, it's very simple: all you have to do is get ready to play fourball and foursomes, and know who you might play with. That's it," Woods wrote.
"As an assistant captain, you're in charge of the wives, girlfriends, families, caddies and individuals that support the golfers. It's a lot more organizational work than I was used to as a player."
Woods won the last of his 79 PGA Tour titles in 2013 and has not won a major since 2008.
Read more: http://www.cnn.com/2017/09/25/golf/tiger-woods-injury-return-presidents-cup/index.html