Biographer says Trump booted him from golf course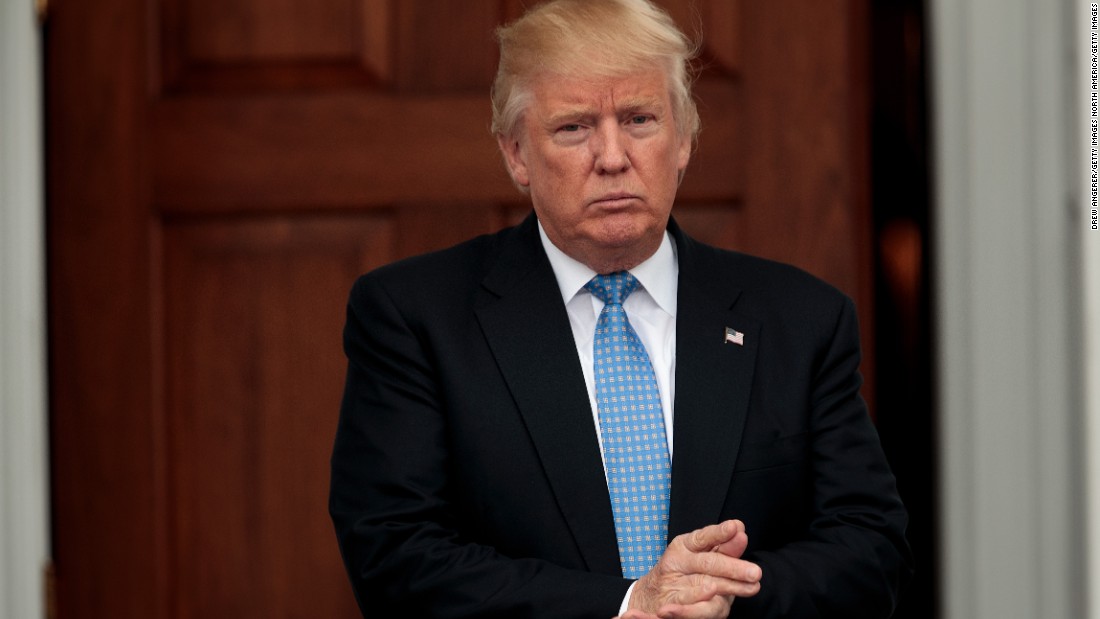 West Palm Beach, Florida (CNN)The author of a decades-old biography critical of Donald Trump says the President-elect asked him to leave a Trump-owned Florida golf course Friday, alleging his presence was "inappropriate."
Harry Hurt III, who penned "Lost Tycoon: The Many Lives of Donald J. Trump," says he was preparing for a round at the Trump International Golf Club in West Palm Beach late last week and introduced himself to the billionaire Republican, who was on a practice range.
In an interview on CNN's "New Day," Hurt said he had seen Trump while playing the course about a year and a half earlier — and that Trump had joked about Hurt's knickers.
He said in 2007 or 2008, Trump clipped his review of nearby Emerald Dunes and hand-wrote a note to Hurt saying the Trump International course "was much better. You should come play." That, he said, led him to believe Trump had no hurt feelings resulting from the 23-year-old book.
Hurt said he approached Trump on the golf course Friday "out of courtesy" as Hurt's foursome — including Republican mega-donor David Koch — got set to start its round. He said he's not sure what changed Friday.
"Donald will continue to exhibit the erratic behavior he has exhibited his entire life," Hurt said.
Hurt first said Trump kicked him off the golf course in a post on his Facebook page Saturday.
"Hurt, who has a scratch handicap and plays in colorful knickers, walked over to Trump on the practice range prior to his group's assigned tee time, only to suffer a tongue lashing from the President-elect," read the post.
Hurt said he shook Trump's hand and offered his congratulations, a gesture he said wasn't reciprocated by the President-elect.
"Trump said, 'You were rough on me, Harry. Really rough. That s— you wrote,' " read the Facebook post.
Hurt's book, first published in 1993, contained reporting that Trump's first wife Ivana had accused the real estate developer of rape during their divorce. Trump adamantly denies the charge, and Ivana has said while she felt "violated" during their marriage, she didn't intend her accusation to be taken in "a literal or criminal sense."
On the golf course in Florida Friday, Hurt said he "looked Trump in the eye, and said, 'It's all true,' to which Trump responded, 'Not in the way you wrote it,' " according to the post on Facebook.
He said Trump had his security detail escort him and three of his friends, which included the billionaire industrialist and major Republican donor David Koch, to the parking lot.
John Damgard, another member of Hurt's group, confirmed that Trump asked them to leave the course.
"We were on the putting green," Damgard, a Republican donor, said. "Harry came and said 'Mr. Trump doesn't want us to play.' We went to a different place."
But he said some details in Hurt's account weren't accurate.
"We had no interaction with security," Damgard told CNN in a phone interview. Damgard said the group was not escorted off the course.
Hurt wrote the foursome went instead to Emerald Dunes, which he called "a much, much better golf course than Trump International."
Politico first reported on the incident
, which took place Friday. Journalists following the President-elect in Florida weren't made aware of Trump's travel to his golf course, since he didn't bring along the traditional pool of journalists assigned to cover his movements. He made a similar decision on Saturday when he traveled a half-hour from his Mar-a-Lago club to play at his course in Jupiter.
Officials with Trump's transition team did not respond to a request for comment. Reached Sunday, Hurt declined to elaborate on his telling of events.
Koch, who is a member at the Trump International course, "loves the club," according to Damgard, but wouldn't have chosen to play there if he'd known it would cause consternation for the President-elect. Damgard said neither he nor Koch were aware of the critical biography Hurt had written.
"Obviously it was something he didn't like. It is his golf course and it certainly it is his right" to remove a player, Damgard said.
Read more: http://www.cnn.com/2017/01/01/politics/donald-trump-biographer-golf-course/index.html