After 80 days and 20,093 shots, golf's longest hole is complete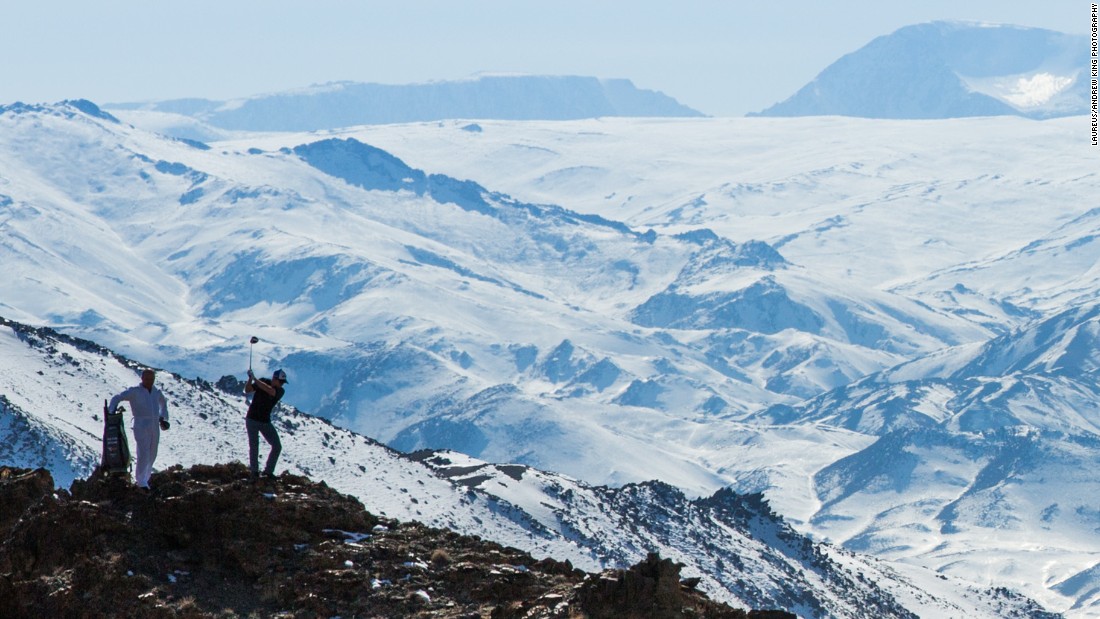 (CNN)When Adam Rolston sunk a seven-foot putt on the Mt Bogd Golf Club in Ulaanbaatar, Mongolia, he brought to a close a 2011-kilometer journey.
80 days ago, Rolston, along with caddy Ron Rutland, had set out on the opposite side of Mongolia in hope of playing the world's longest hole of
golf
; 20,093 shots later, their dream had been realized.
But that's only part of the story. Terrible weather, testing terrain, stolen belongings, and ill-timed injuries meant the adventure hardly ran smoothly.
"We estimated before that the par was going to be 14,000 shots and I think we were extremely naïve with that," Rolston tells CNN.
"We ended up playing 20,093 shots, so 6,093 over-par."
The world record, which raised money for
Laureus Sport for Good
, started in the far-west of Mongolia and finished in the country's only golf course in the capital Ulaanbaatar.
The two faced their own unique challenges. Each day, Rolston was hitting around 250 full-blooded golf shots, while Rutland pulled a 100kg cart of food, water, camping equipment, clubs and golf balls across 25 km of varied terrain, causing him to lose 16kg of weight over the 80 days.
'The hardest week of my life'
Just a few days into the journey, Rolston admits the thought of quitting crossed his mind. The weather in the Altai mountains in the west of Mongolia posed the biggest challenge of the 80-day journey.
"The first week was miserable, unbelievably miserable, it was the hardest week of my life. The terrain, the bog, it was raining so hard and the route was so boggy that the wheels were coming off the cart and I was knee-deep in mud and sleet.
"Putting your tent up in rain and sleet and having to put on wet, cold shoes — I don't think we saw sun for four days.
"We were doing eight or nine kilometers a day when we had planned to do 25."
The pair also struggled with various injuries.
"I was waking up at three in the morning with back spasms and just having to sit on a box. That was annoying but I knew it was only a temporary thing," says Rolston.
"Ron had a hip issue. He had hip surgery about a year ago and his was much more of a chronic thing and he's probably going to have to go under some sort of surgical procedure."
Mongolia: Unrealized golf potential?
With its sparse desert plains, much of the Mongolian landscape offered the perfect environment for a lengthy round of golf.
Golf is a relatively unknown sport for many Mongolians, and Rutland and Rolston encountered plenty of intrigue on the way round.
"We started in the far west which was much more isolated," explains Rolston.
"These guys had never seen golf before. Just seeing a white guy pulling a cart was a big thing, but to see another guy behind him hitting a little white pebble some 250 times a day was even more strange.
"It's like I'm [the magiciain] Houdini hitting these balls for miles."
But Rolston would also let the locals take a few shots of their own, and the results, he explains, were impressive.
"Mongolian people ride horses a lot, they shoot bows on horses, they wrestle; they're certainly not uncoordinated.
"Some of the time you give them a golf club and they swing and hit it 100 yards … That was pretty surprising."
Read more: http://www.cnn.com/2017/09/26/golf/longest-hole-mongolia-laureus/index.html